Massage and kinesio taping for pregnant women at MFD Outpatients hospital «Pardaugava»
Date added: 28 05 2018
MFD Outpatients hospital «Pardaugava» offers massage and kinesio taping for the well-being of pregnant women!

Massage during pregnancy can be very effective and useful. It is lighter and milder than a classical massage. During the massage, emphasis is placed on the well-being of a pregnant woman. Massage helps pregnant women get rid of tension and prevent stress symptoms. It reduces headache and back pain, as well as leg pain. Massage helps to relax tense muscles and helps to reduce swelling. After the massage, the feeling improves, fatigue decreases and blood circulation improves.
Kinesio taping is a popular and effective method for relieving pain in traumatized muscles and for relieving pain in the joints. This method is gentle and therefore suitable for pregnant women. It helps:
regulate muscle tone and reduce the load on overloaded muscles;
reduce muscle and back pain;
reduce swelling and inflammation;
adjust posture;
support the abdomen.
More information and signing up at the reception or by phone 67131316!
MFD Outpatient hospital "Pardaugava"
Riga, Vienibas gatve 109,

67131316

pardaugava AT mfd DOT lv
MFD Healthcare group began its history more than 50 years ago as an outpatient health care facility. At this moment the MFD is one of the largest multi-profile healthcare company that provides a wide range of health care services to more than 400 000 patients in different locations in Riga and Latvia. By using the latest technologies and excellent medical experience, MFD main objective is to take care of the health of the population by ensuring timely disease prevention, as well as providing effective diagnostic and treatment services.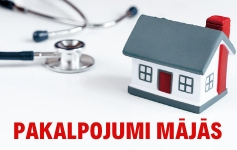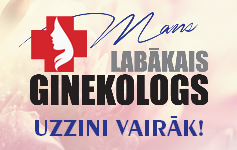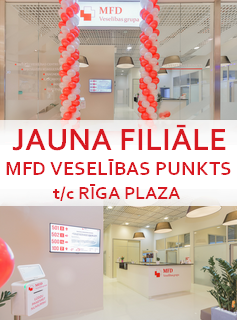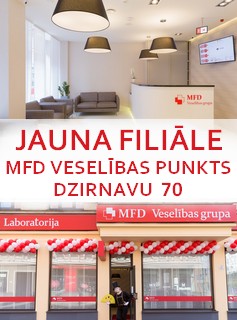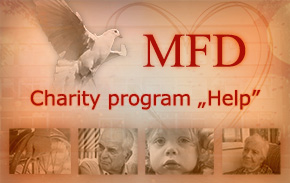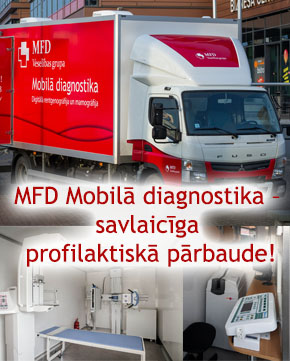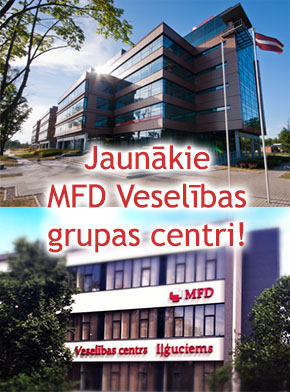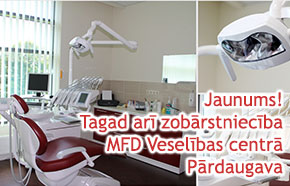 Dear website visitors!

The website is under construction and the information may be incomplete.In case of questions please contact reception of the proper MFD Healthcare Group's department - contacts.

We appreciate your kind understanding.