Holter ECG 24-hours monitoring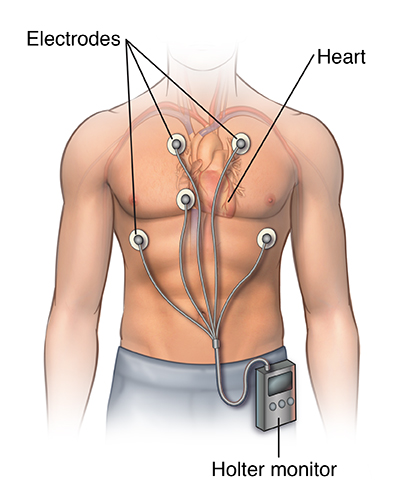 Holter ECG 24-hour monitoring is an ECG recording during the day.
Disposable Velcro electrodes are placed on the patient's chest. A cardio recorder is connected to them, which is attached to the belt. The dimensions of the device are 5x8 cm.Weight is 50 g.
The study is carried out on an outpatient basis, the patient continues to perform his usual loads. After a day, the device is removed and a detailed analysis of the daily ECG recording is carried out.
The technique of Holter ECG monitoring makes it possible to assess the activity of the heart under the conditions of the patient's normal activity (the reaction of the heart to physical and emotional stress, the state of the heart during sleep, the rhythm and conductivity of the heart during the day, reveals episodes of painful and painless myocardial ischemia, allows to clarify the cause of fainting and pre-fainting states, etc.).
The technique is highly informative and absolutely safe for the patient.
Before performing Holter ECG monitoring:
FOR MEN, shave chest hair from neck to navel and armpits to waist before examination.