Prices
Women's health center «Vita» price list
Services

Price, EUR

DOCTORS ACCEPTANCE:

First-time gynecologist acceptance (without аnalysis)

45,00

Second-time gynecologist acceptance (without аnalysis)

35,00

Gynecologist reproductive consultation for the couple

80,00

Pregnant women acceptance*

35,00

GYNECOLOGICAL CENTER SERVICES:

Gynecological ultrasonography

40,00

Fetus ultrasound for pregnant woman

40,00

3D/4D ultrasound for pregnant woman (DVD and color photos)

75,00

Cardiotocography (fetal heartbeat record)

20,00

Hysterosalpingography with ExEm Foam controlled by ultrasound

160,00

Monitoring ovulation by US method

15,00

One-time gynecological kit

3,50

Collecting smear (without analysis)

3,00

Smear test

6,00

Cytological examinations of the cervix

10,00




Cytology of gynecological material with preservative




15,00

Aspiration of the uterus

25,00

Cytology from the uterine (aspirate)

15,00

Cytological examination of aspirate biopsy material

12,00

Removing

biopsy

material

15,00

Collecting material for chlamydiosis test (without analysis)

6,00

Contraceptive evacuation

20,00

Contraceptive evacuation with a tool

30,00

Contraceptive injection

45,00

Fleree IUS with injection

189,00

KYLEENA IUS with injection

189,00

Mirena IUS with injection

165,00

Silver IUS with injection

76,00

Gold IUS with injection

95,00

Copper IUS with injection

55,00

Vaginal ring change

10,00

Nexplanon removal

45,00

Vaginal drug therapy (without medication price)

8,00

Anesthesia with Instillagel

12,00

Cervical treatment with sol. Solcogyni

25,00

Cervical diatermocoagulation

30,00

Cervical thermocoagulation

25,00

Cervical cryotherapy

25,00

Colposcopy

45,00

Cervical canal dilation

8,00

Cervical canal polyp removal aspirate from the cervical canal and the uterine cavity

48,00

Intimate zone correction with hyaluronic acid, 1 ampoule

220,00

Intimate Zone Plasmolifting (iPRF Method)

120,00

Reconstruction of vaginal mucosa during postnatal period to reduce scar tissue with Mona Lisa Touch laser. First procedure

250,00

Reconstruction of vaginal mucosa during postnatal period to reduce scar tissue with Mona Lisa Touch laser. Repeated procedure

200,00

Restocking of the vaginal mucosa in premenopausal and postmenopausal with Mona Lisa Touch laser. First procedure

250,00

Restocking of the vaginal mucosa in premenopausal and postmenopausal with Mona Lisa Touch laser. Repeated procedure

200,00

Reduction of stress urinary incontinence with Mona Lisa Touch laser. First procedure

250,00

Reduction of stress urinary incontinence with Mona Lisa Touch laser. Repeated procedure

200,00

Treatment of vulva atrophy (Lichen sclerosus) with Mona Lisa Touch laser. First procedure

150,00

Treatment of vulva atrophy (Lichen sclerosus) with Mona Lisa Touch laser. Repeated procedure

100,00

Laser condyloma removal (1) with Mona Lisa Touch laser

30,00

Laser condyloma removal (3 to 5) with Mona Lisa Touch laser

100,00

Medical abortion

325,00

Extract from the outpatient card, prescription

8,00

Mother's passport

2,00

Performing ACTIM PARTI test for pregnant women

18,00

Performing

ACTIM

PROM

test

for

pregnant

women

18,00

Blood pressure control

2,00

One i/m, s/c injection

4,00

One i/v injection

5,00

Determination of pregnancy with test

8,00

Midwives consultation (1 person)

15,00

Midwives consultation (for family)

20,00

Class for pregnant woman in School for parents

17,00

Class for pregnant woman with a partner in School for parents

24,00

Subscription for pregnant woman in School for parents (4 lessons)

54,00

Subscription for pregnant woman with a partner School for parents (4 lessons)
76,00

Gymnastics for pregnant women (45 min)

10,00
Subscription - gymnastics for pregnant woman for month (8 lessons)
62,00
* In all MFD Women's health center «Vita» branches pregnant women are taken into the accounts in accordance with the state funded PREGNANCY CARE program (within the Cabinet of Ministers approved program «Maternal and child health improvement program 2012-2014»).
Pregnant women get state funded gynecologist consultations, ultrasonography examinations and series of tests in accordance with the Cabinet of Ministers regulation's Nr.611 annex Nr.1 from the 25.07.2006 «Birth assistance during pregnancy and motherhood».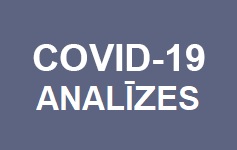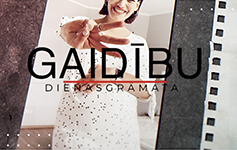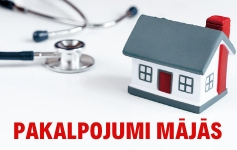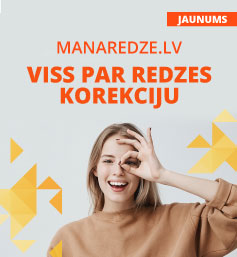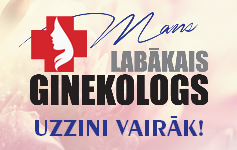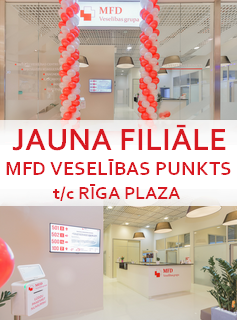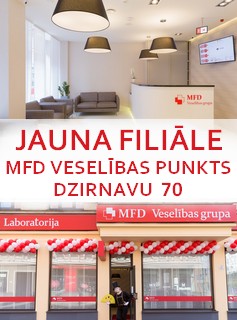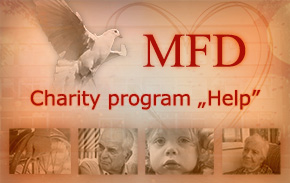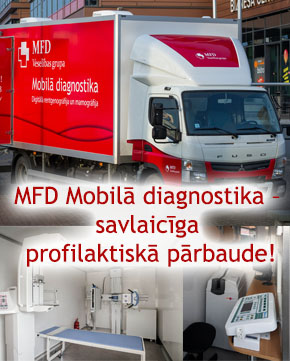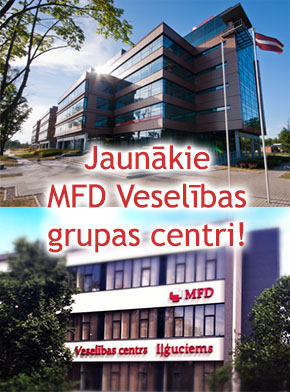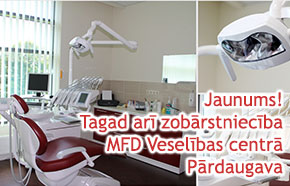 Dear website visitors!

The website is under construction and the information may be incomplete.In case of questions please contact reception of the proper MFD Healthcare Group's department - contacts.

We appreciate your kind understanding.