Tests and methods of investigation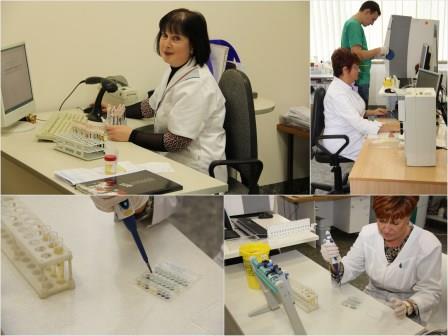 CHILDREN
If your child has frequent sore throat, tonsillitis or allergies - the calling vb Group A beta haemolytic streptococcus. In our laboratory, the swab into a yawn and 15 minutes has been tested for both children and parents.
Bowel disorder (diarrhea, constipation) Diagnostics - Rotavirus, G. lamblia and other intestinal parasites by that particular date, if there is animals!

METABOLIZMA diagnostic trouble - thanks to new technologies offer a wide range of biochemical tests - quickly and efficiently! The laboratory may also receive laboratory specialist advice! 67134140


Endocrinology
Hormonal disorder problem remains always up to date, we offer a wide range of check Vairogdziedera hormones and antibodies in patients with diabetes - to determine not only the glucose levels but with more sophisticated investigative techniques, including glycosylated hemoglobin (HbA1c) and urine Mikroalbumīnu.

Cardiovascular diseases
In our laboratory, the aPTT test Prothrombin complex INR and Fibrinogen. These indicators are important in cardiovascular disease diagnosis and therapy.

UROLOGY

Men we examine the PSA test to prostate pressing diseases (prostatitis, prostatic adenoma, cancer).

INFECTION
• Screening for hepatitis - B and Hepatitis C only 2 hours!
• Wide range of sexually transmitted diseases (STDs) and HIV / AIDS diagnosis!

Areas of accreditation:

In the laboratory you can receive specialist consultation about the performed laboratory tests: Tel. 67134140.