COVID-19 test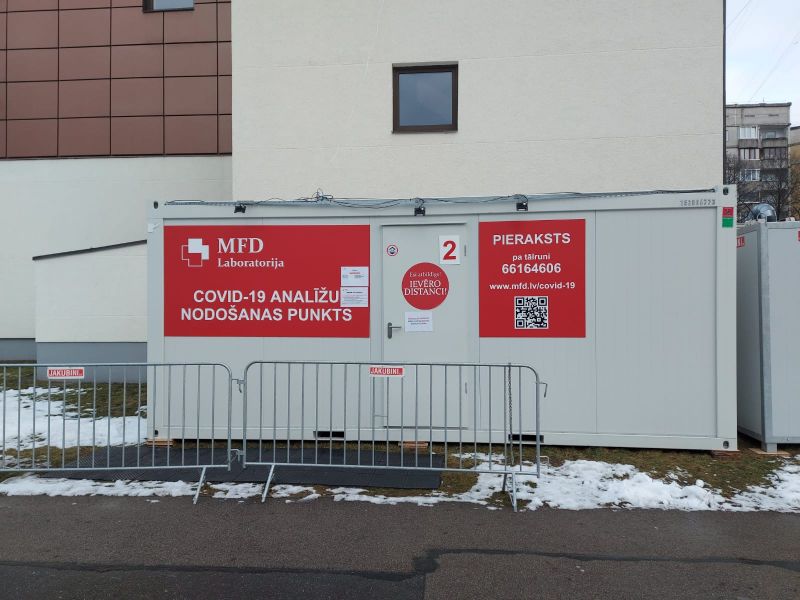 In the branches of the MFD Healthcare group,
we perform a nasopharyngeal smear sampling test, with the help of which it is possible to detect infection with Covid-19 infection. It is necessary to call by phone 66164601. We perform the test in the following branches:
Riga:

Rušonu

Street

15

;




Buļļu

Street

9

;




Saharova Street 2




Brīvības Steet 75 (Dailes teātris);




Dižozolu Street 65;

Kurzemes prospekts 1a (T/C "Damme");

Purvciems – Dzelzavas street 74

Ogre – Tirgoņu street 11
Jelgava – Pasta street 32
The test for Covid-19 is carried out only after an appointment by phone at 66164601.
The analyzed material is a swab from the nasopharynx (taken from the throat and nose)
Free service - Covid-19 (NVD) test the answer is given in Latvian:
by referral from a doctor, doctor's practice or medical institution, according to clinical indications (applying for a laboratory test by phone at 66164601);
QR code is not generated
Paid service - Covid-19 test - € 40.00 - the answer is issued in Latvian and English and the QR code is available at covid19sertifikats.lv:
Applying in advance by phone at phone number 66164601
at the patient's initiative (in case of travel, business trip)
at the employer's request (if there is no family doctor's appointment)
non-residents without symptoms
The test can be paid for by credit card on the spot at the MFD mobile test point or at any branch of the MFD Healthcare group (during working hours).
In case of travel, it is sometimes additionally necessary to purchase a Certificate for Safe Travel (19.00 euros), http://www.mfd.lv/en/sertifikats-covid-19
The full list and criteria of services paid for with State funds can be viewed on the SPKC website:https://www.spkc.gov.lv/lv/media/15373/download
Additional Information:
if you have symptoms of a disease or quarantine, you must come to the MFD mobile test point by foot or by personal transport.
it is imperative to wear a mask and observe all precautions; a distance of 2 m must be maintained between patients
when passing the analysis, you must present an identity document
the validity of the test result is counted from the TIME OF PASSING THE TEST, the test results are provided within a maximum of 24 hours.
The validity period of the test in the territory of Latvia - 72 hours
!!! The laboratory proposes to conduct a test for Covid-19 infection for the team in the enterprise, having previously agreed on a convenient place and time for you. Departure price 100 EUR (contact us by phone - 26388668)