All types of medical tests at MFDhealth points
Date added: 14 08 2019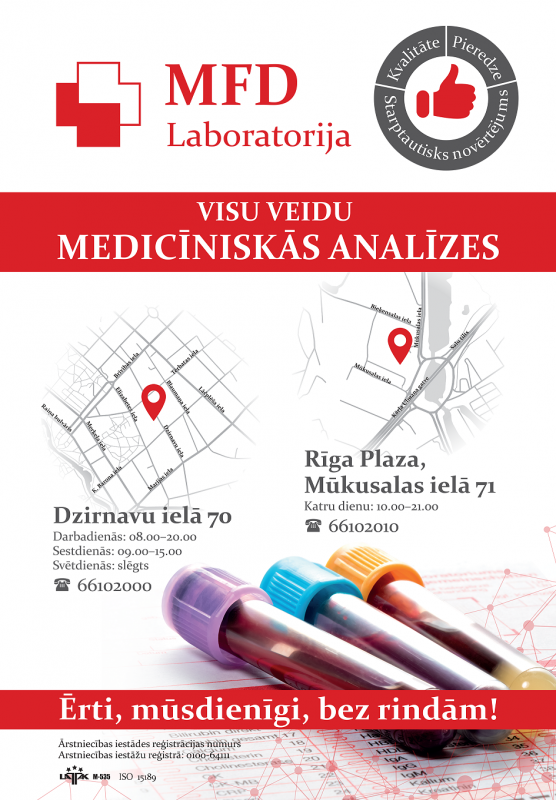 MFD Medical Group presents very modern MFD Medical Points, which are located at ul. Dzirnavu 70 and in T / C Riga Plaza, on st. Mukusalas 71.
At the MFD Outpatient hospital, you can carry out different types of examinations, get medical advice from doctors and pass all types of medical tests without waiting in line!
In the MFD Health point is available clinical laboratory:

MFD Laboratory is one of the biggest accredited (ISO 15189:2013) laboratories in Latvia, that performs high-quality various medical tests.
MFD Laboratory performs clinical chemistry, hematology, immunohematology, immunology, cytology, histology and various types of clinical tests to assess the state of health or provide disease diagnostics.
State funded services:
with family doctor's referral which has a contract with National Health Service.
Paid services by the current price list:
with doctor's referral;
without doctor's referral;
by personal volition anonymously taken laboratory tests.
We have signed contracts with all insurance companies!

More about MFD Laboratory, other branches and services please see here: www.mfd.lv/laboratory

MFD Healthcare group began its history more than 50 years ago as an outpatient health care facility. At this moment the MFD is one of the largest multi-profile healthcare company that provides a wide range of health care services to more than 400 000 patients in different locations in Riga and Latvia. By using the latest technologies and excellent medical experience, MFD main objective is to take care of the health of the population by ensuring timely disease prevention, as well as providing effective diagnostic and treatment services.