Stomatology "ASTRA dent"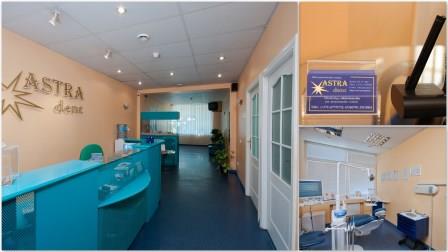 Patients' teeth healthy and pleasant smile is our main clinic employed doctors task.

Dental Clinics "ASTRA dent" long-standing medical experience and knowledge combined with modern equipment and technology that helps fulfill our doctor's main task.

Arriving at the first visit to the doctor for a consultation, you will be done in oral examination and set each tooth health. If your doctor finds tooth decay, treatment plan will be drawn up, as well as recommend solutions hygiene. If your teeth will require a thorough examination, the doctor will perform radiographic examinations.

X-ray diagnostic imaging is the only method that allows the assessment of the tooth parts of your doctor is not available at the time of inspection. X-ray quickly and effectively diagnose the problem to determine a proper treatment. All of our dental clinic rooms are equipped with modern X-ray equipment, which allows to optimize the x-ray beam load so that it is sufficient examinations and maximum patient safety. The patient performed X-ray plate is now available on your computer dentist.

These new technological opportunities shortens treatment time, allowing the doctor to inform the patient be considered for treatment, explain the process and provide the results.

For more than 10 years of work dental clinic "ASTRA dent" its doctors regularly update their professional knowledge by acquiring the latest technology and by an extensive treatment of a range of materials, which allows you to select the most appropriate for their patients.