Don't postpone your visit to the eye doctor!
Date added: 05 09 2022
Ophthalmologist Volodymyr Tverdyi will start receptions at the "Pārdaugava" Health Center from September 5.
During a visit to the eye doctor he:
will perform a visual acuity test
will determine the refraction, if necessary - will also prescribe a prescription for glasses
will perform a visual field examination
will perform a biomicroscopic examination of the anterior parts of the eye
will perform direct and indirect ophthalmoscopy
will determine the intraocular pressure of the eye
will determine the diagnosis
will prescribe therapy
During the visit, both the health of the eyes and vision will be evaluated!
Consultations will be held in English or Russian.
To apply for a visit to a specialist, please call

67131316 or write to pardaugava AT mfd DOT lv
Your eyes deserve love!
In accordance with the second part of Article 16 of the Law on the Support of Civilians of Ukraine, Ukrainian medical persons employed by SIA "Dziedniecība" are provided with the necessary communication for the professional activity of the medical person, namely - at the request of the patient, as well as by agreement with the patient, a medical person is provided during the service, which can provide communication in the national language.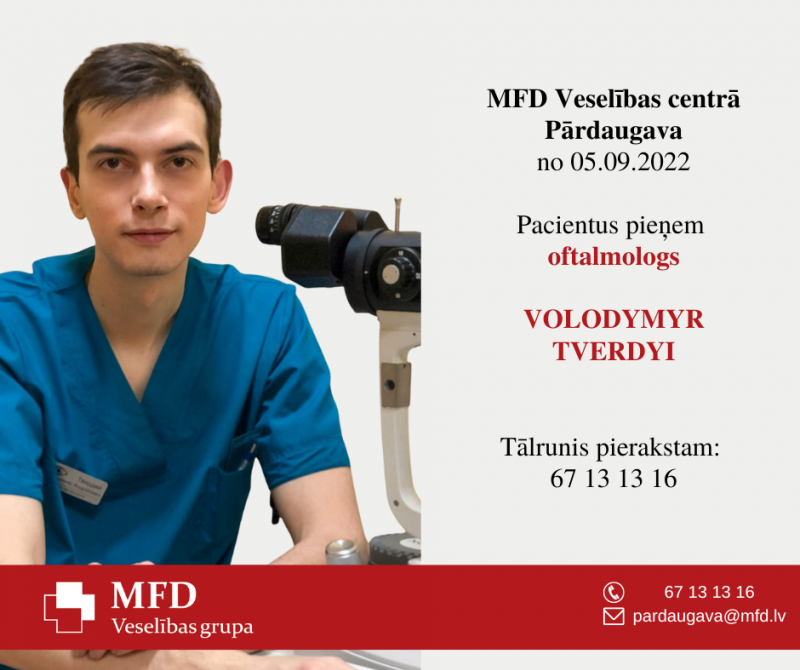 MFD Healthcare group began its history more than 50 years ago as an outpatient health care facility. At this moment the MFD is one of the largest multi-profile healthcare company that provides a wide range of health care services to more than 400 000 patients in different locations in Riga and Latvia. By using the latest technologies and excellent medical experience, MFD main objective is to take care of the health of the population by ensuring timely disease prevention, as well as providing effective diagnostic and treatment services.