Hydromassage specialist at the MFD Outpatient hospital "Pārdaugava"
Date added: 08 10 2019
Hydromassage specialist Zane Griķe starts accept patients at the MFD Outpatient hospital "Pārdaugava".
Underwater massage is a unique treatment, combining the healing power and relaxing effect of massage, which gives comfort and pleasure to both body and mind. Warm water and massaging jets with varying amplitude and intensity make muscles relaxed and pain reduced.
Underwater massage is aimed not only at cosmetic and relaxing purposes, for example, cellulite treatment and body shape correction, but is also applied in case of the following problems:
injuries and muscle pain;
neuritis and radiculitis;
metabolic disorders;
cardiovascular diseases;
diseases of the musculoskeletal system and joints;
depression and chronic fatigue;
damage of the peripheral and central nervous system, consequences of stroke;
soft tissue injuries, treatment of scar tissues;
improvement of skin elasticity and firmness after pregnancy.
Positive features of underwater massage:
improves blood flow to the skin and muscle tone;
reduces arterial pressure, improves blood circulation and blood supply to the heart;
promotes secretion;
increases levels of hemoglobin and red blood cells;
regulates the metabolism and promotes the removal of slags from the body;
increases the flexibility of ligaments and tissues;
promote tissue respiration and blood circulation;
Working hours:
Monday: 11.00-20.00
Wednesday: 8.00-17.00
Friday: 8.00-16.00
Cost per one treatment (30 min) - 27,00 EUR
The subscription fee (10 times) - 220.00 EUR
MFD Healthcare group has agreements with all insurance companies.
MFD Outpatient hospital "Pardaugava"
Riga, Vienibas gatve 109,

67131316

pardaugava AT mfd DOT lv
MFD Healthcare group began its history more than 50 years ago as an outpatient health care facility. At this moment the MFD is one of the largest multi-profile healthcare company that provides a wide range of health care services to more than 400 000 patients in different locations in Riga and Latvia. By using the latest technologies and excellent medical experience, MFD main objective is to take care of the health of the population by ensuring timely disease prevention, as well as providing effective diagnostic and treatment services.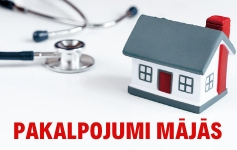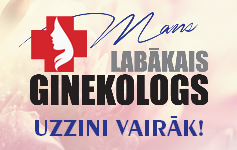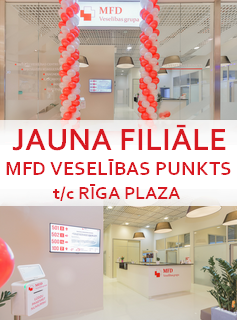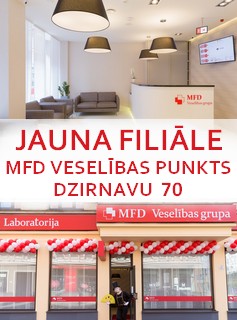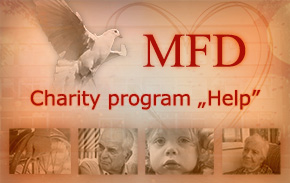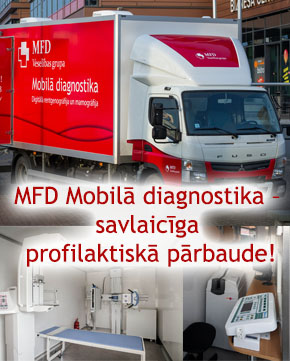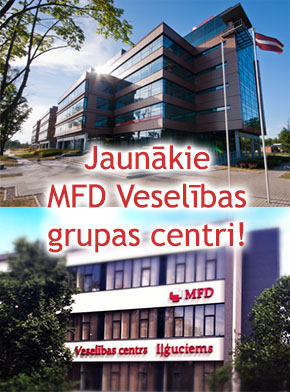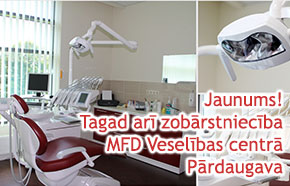 Dear website visitors!

The website is under construction and the information may be incomplete.In case of questions please contact reception of the proper MFD Healthcare Group's department - contacts.

We appreciate your kind understanding.