MFD Diagnostics opens third magnetic resonance imaging room
Date added: 10 11 2017
Every year high-tech diagnostic examinations, including magnetic resonance imaging, are becoming more accessible to patients. This is facilitated by the purchase of new equipment and software improvements, which allows optimizing examination time and providing higher image quality. Doctors are also keen on the opportunity to send patients to magnetic resonance imaging to diagnose potential changes as early as possible.
In the sequel of development and improvement of the availability of diagnostic services to the clients, MFD Healthcare group has opened already third MRI examination room in the premises of the MFD Outpatient hospital «Ilguciems» in Riga, Bullu Str. 9. The new MRI room is equipped with first in Latvia high class magnetic resonance scanner Siemens Magnetom Amira, 1.5 Tesla.
The new magnetic resonance scanner has several important advantages:
- improved image quality by equipping the scanner with the highest level of software;
- provides very fast examinations by reducing the time of examination;
- during the examination the acoustic noise level is reduced by more than 97%;
- suitable for patients up to 200 kg;
- in addition to clients' convenience, the Life Design system is equipped with a light illumination during the exam, which allows the patient to feel comfortable and calm, as well as with special airflow control.
What is magnetic resonance imaging, and for what purpose is it used?

Magnetic resonance imaging (MRI) is a modern, safe, informative method of visual diagnostics. Images of the body and organs are made by using radio waves of a powerful magnetic field which is created by the MRI scanner. An important benefit of MR examination is the absence of ionizing radiation that is harmful to the human body.
The following organs are examined by using MRI:
head and head/neck blood vessels;
soft tissues of the neck;
chest;
organs of the abdomen and pelvis;
system of bile tract;
spine;
bone joints;
whole body (MR Total body);
total spine (MR Total spine);
heart.
At the new magnetic resonance room are available state funded examinations. Patient's fee for the examination is 28.46 EUR.
Standard examination price is from 115.00 EUR.
To make a prior appointment for a magnetic resonance examination please call the MFD Outpatient hospital «Ilguciems» reception by phone 67131311 (on weekdays from 08.00 to 20.00, Saturdays from 09.00 to 15.00) or write an e-mail to ilguciems AT mfd DOT lv.
Examination images clients will be able to get recorded on a disc (CD). Examination results will be available via e-mail or on spot at the outpatient hospital.
More information about MFD Diagnostics service is available at www.mfd.lv/mfd-diagnostic.
MFD Outpatient hospital "Iļģuciems"
Riga, Buļļu Str. 9

67131311


ilguciems AT mfd DOT lv
MFD Healthcare group began its history more than 50 years ago as an outpatient health care facility. At this moment the MFD is one of the largest multi-profile healthcare company that provides a wide range of health care services to more than 400 000 patients in different locations in Riga and Latvia. By using the latest technologies and excellent medical experience, MFD main objective is to take care of the health of the population by ensuring timely disease prevention, as well as providing effective diagnostic and treatment services.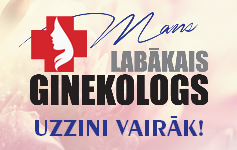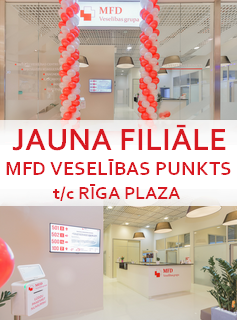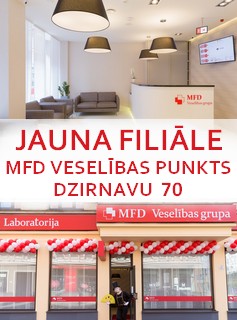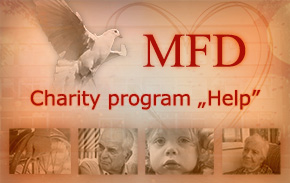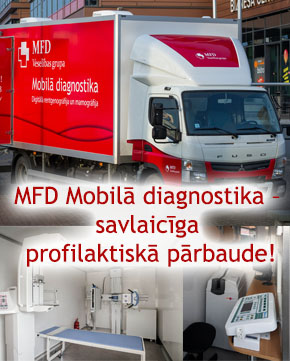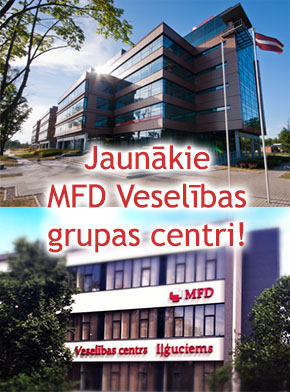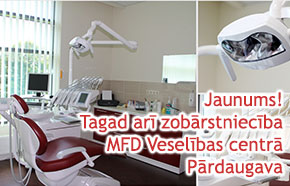 Dear website visitors!

The website is under construction and the information may be incomplete.In case of questions please contact reception of the proper MFD Healthcare Group's department - contacts.

We appreciate your kind understanding.