Date added: 22 02 2019
Agrāk ginekologs sievietei bieži asociējās ar profilaktiskajām masveida apskatēm, un bieži vien sieviete vērsās pie ginekologa tikai ar jau esošām problēmām.
Tagad lielākajai daļai ir savs ginekologs, kas kļuvis par tuvu uzticības personu mūža garumā, un dažreiz sieviete atved pie ginekologa arī savas meitas vai pat mazmeitas. Tās ir nopietnas un ļoti svarīgas pārmaiņas, jo bieži vien ginekologs pilda ne tikai savus tiešos pienākumus, bet arī personīgā psihologa funkcijas un sieviete var apspriest ar savu ginekologu visas sasāpējušās problēmas.

MFD Veselības grupas galvenā ārste ginekoloģijā Ingrīda Circene
Sevi mīloša un cienoša sieviete reizi gadā noteikti apmeklē ginekologu, jo regulāras pārbaudes nodrošina ginekoloģisko slimību (arī bīstamu) savlaicīgu profilaksi un ielaistu gadījumu samazināšanos.
Tādēļ jebkurai sievietei ir svarīgi regulāri veikt krūts un dzemdes kakla vēža profilaktiskos izmeklējumus. Jau gandrīz 10 gadu sievietes vecumā no 25 līdz 70 gadiem ik pēc trim gadiem tiek aicinātas uz valsts apmaksātu dzemdes kakla onkocitoloģisko skrīningu. Savukārt, lai agrīni diagnosticētu krūts vēzi, sievietēm jebkurā vecumā regulāri jāveic krūšu pašpārbaudes, bet vecumā no 50 līdz 69 gadiem katru otro gadu sievietes tiek aicinātas uz valsts apmaksātu mamogrāfiju.
Lai veicinātu krūts un dzemdes kakla vēža profilaktisko pārbaužu veikšanu, aicinām visas sievietes laikus veikt nepieciešamos izmeklējumus MFD Veselības grupas medicīnas centros, kur ar šīm vēstulēm gan mamogrāfijas izmeklējumi, gan onkocitoloģiskā analīze ir valsts apmaksāti. Savukārt divi MFD mamogrāfijas busi sadarbībā ar ģimenes ārstiem un pašvaldībām regulāri dodas uz apdzīvotām vietām, kur šādu iespēju nav, un veic dažādus izmeklējumus vienko- pus – mamogrāfiju, rentgenu, USG krūtīm un citus izmeklējumus –, kā arī cilvēki var nodot analīzes un saņemt ārstu speciālistu konsultācijas, līdzi ņemot uzaicinājuma vēstuli vai ģimenes ārsta nosūtījumu.
MFD sieviešu veselības centros Vita savus pakalpojumus piedāvā augsti kvalificēti ginekologi, mūsu komandā strādā vairāk nekā 30 ginekologu un astoņas vecmātes! Tiek risinātas dažādas ginekoloģiskas problēmas: vienas pieņemšanas laikā var veikt gan plaši izmantojamo ultrasonogrāfisko izmeklēšanu, gan atsevišķos gadījumos arī olvadu caurlaidības pārbaudi ar speciālām putām ultrasonogrāfijas kontrolē u. c. Jāatzīmē arī, ka visos septiņos MFD sieviešu veselības centros Vita īpaši gaidītas ir grūtnieces, jo grūtnieču aprūpe šeit tiek veikta pēc valsts apmaksātas grūtnieču programmas.
Mūsu MFD sieviešu veselības centros Vita tiek piedāvāti arī estētiskās ginekoloģijas pakalpojumi, kas ļauj sievietēm saglabāt veselību vēl ilgus gadus. Mūsdienu modernās intīmās estētiskās ginekoloģijas metodes ļauj uzlabot seksuālās dzīves kvalitāti, mazināt stresa urīna nesaturēšanu un maksts sieniņu noslīdēšanu. Aktuā-las kļuvušas hialuronskābes injekcijas ārējo dzimumorgānu un maksts gļotādas atjaunošanai un apjoma palielināšanai. Līdzīgi maksts mitrināšanu un elasticitāti uzlabo plazmoliftinga injekcijas un lāzerterapija.
Pēdējo gadu laikā ir notikušas milzu pārmaiņas arī hormonālās terapijas iespēju jomā, un par hormonu nozīmi vairs nerunājam tikai reproduktīvajā vecumā, bet arī kā par dzīves kvalitātes uzlabošanas nodrošināšanu mūža garumā. Katrai sievietei ar sava ginekologa palīdzību ir iespēja piemeklēt viņai vispiemērotāko kontracepcijas veidu, kā arī aizvietojošo hormonterapiju. Laika gaitā ir mainījušās ne tikai sievietes un ginekologa savstarpējās attiecības un atklātība sevišķi jūtīgos jautājumos, bet arī medicīnas tehnoloģiju un izmeklējumu iespējas.
Lai sniegtu iespējami kvalitatīvus veselības aprūpes pakalpojumus, MFD Veselības grupas rīcībā ir gan sava akreditēta laboratorija (ISO 15189), gan plaša spektra diagnostikas iespējas, kas ļauj laikus atklāt slimības to agrīnā stadijā. MFD dienas stacionārā augsti kvalificēti ārsti speciālisti veic ne tikai ķirurģiskas, bet arī dažādas ginekoloģiskas operācijas un manipulācijas, piemēram, ar histeroskopijas palīdzību var pārbaudīt sievietes reproduktīvo funkciju.
Šogad, 2. martā, Semarah Hotels Lielupe no plkst. 12.00 līdz 18.00 visas Latvijas sievietes tiek aicinātas apmeklēt Sieviešu festivālu 2019, kur sadarbībā ar Māmiņu klubu MFD Veselības grupa ir festivāla ģenerālsponsors.
MFD Veselības grupa uzsāka darbību pirms vairāk nekā 50 gadiem kā ambulatora veselības aprūpes iestāde. Pašlaik MFD ir viena no lielākajām daudzprofilu veselības aprūpes iestādēm, kas sniedz plaša spektra veselības aprūpes pakalpojumus vairāk nekā 400 000 pacientu dažādās vietās Rīgā un Latvijā.
Izmantojot jaunākās tehnoloģijas un izcilu ārstu pieredzi, MFD pamatmērķis ir rūpēties par iedzīvotāju veselību, nodrošinot savlaicīgu slimību profilaksi, kā arī sniedzot efektīvus dia-gnostikas un ārstēšanas pakalpojumus. MFD Veselības grupu pārstāv mūsdienīgi veselības aprūpes centri, veselības punkti un doktorāti: veselības centri Pārdaugava, Iļģuciems, Dziedniecība, Možums-1, veselības punkti Rīga Plaza un Dzirnavu 70, plašs doktorātu tīkls, kardiocentri, diagnostikas nodaļas, sieviešu veselības centri Vita, zobārstniecības klīnikas ASTRA Dent un Nova Dent. MFD lepojas ar modernu medicīnisko aprīkojumu un vairāk nekā 1000 darbinieku kolektīvu.
publikācija no žurnāla "Ieva" 20.02.2019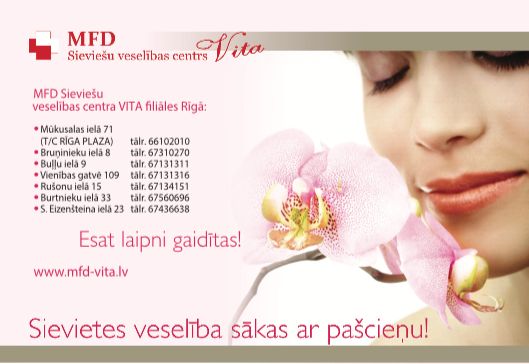 MFD Healthcare group began its history more than 50 years ago as an outpatient health care facility. At this moment the MFD is one of the largest multi-profile healthcare company that provides a wide range of health care services to more than 400 000 patients in different locations in Riga and Latvia. By using the latest technologies and excellent medical experience, MFD main objective is to take care of the health of the population by ensuring timely disease prevention, as well as providing effective diagnostic and treatment services.