COVID-19 test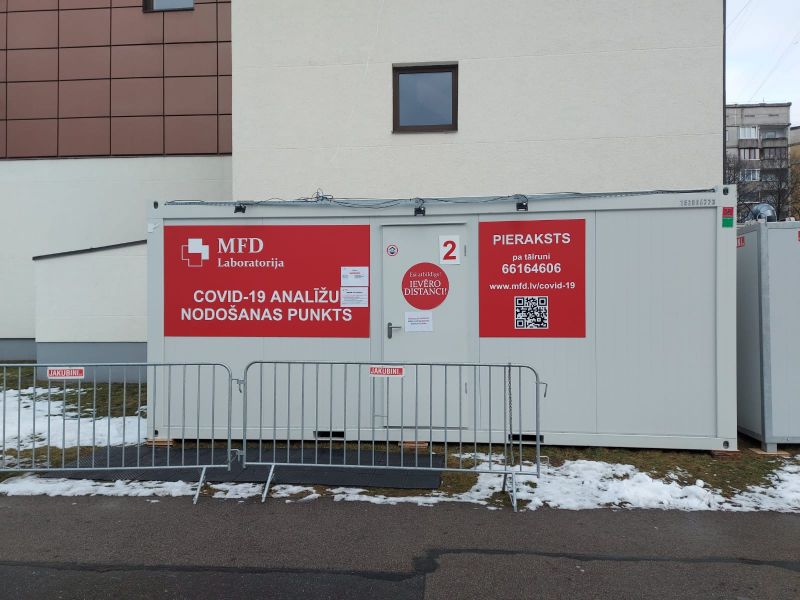 In the branches of the MFD Healthcare group,
we perform a nasopharyngeal smear sampling test, with the help of which it is possible to detect infection with Covid-19 infection. It is necessary to call by phone 8303. We perform the test in the following branches:
Riga:

Rušonu

Street

15

;




Buļļu

Street

9

;




Zolitūte

Street

34

;




Augusta

Deglava

Street

12a

;




Dzelzavas Street 74;

Brīvības Steet 75 (Dailes teātris);

Aspazijas bulvāris 3 (Latvijas Nacionālā opera un balets);

Dižozolu Street 65;

Kurzemes prospekts 1a (T/C "Damme");
Kurzemes prospekts 132;
Gaiļezera Street 8 (T/C "Penta");
Parādes Street 5b.

Beyond Riga:

Olaine, Zaiferta Street 6;

Ogre, Tirgoņu Street 11;

Jelgava, Pasta Street 32;

Lielvārde, Lāčplēša iela 25a.



The test for Covid-19 is carried out only after an appointment by phone 8313.
The analyzed material is a swab from the nasopharynx (taken from the throat and nose)
Free service - Covid-19 (NVD) test:
a referral from a family doctor or specialist is required
if you have any symptoms of the disease (fever, cough, sore throat, runny nose, etc.)
before surgery or medical procedures
for people who have returned to Latvia from the UK or South Africa without symptoms
for patients with chronic disease or immunodeficiency
for people (including children and one of the parents who will accompany the child) who are referred for surgery or chemotherapy
for soldiers of foreign armed forces and for NBS personnel
for people who work in the beauty industry
for driving instructors in a driving school
Paid service - Covid-19 test - € 80.00:
at the initiative of the patient (in case of travel, business trip)
at the request of the employer (in the absence of a referral from a family doctor
The test can be paid for by credit card on the spot at the MFD mobile test point or at any branch of the MFD Healthcare group (during working hours).
In case of travel, it is additionally necessary to purchase a Certificate for Safe Travel (40.00 euros), http://www.mfd.lv/en/sertifikats-covid-19
Additional Information:
if you have symptoms of a disease or quarantine, you must come to the MFD mobile test point by foot or by personal transport.
it is imperative to wear a mask and observe all precautions; a distance of 2 m must be maintained between patients
when passing the analysis, you must present an identity document
the validity of the test result is counted from the TIME OF PASSING THE TEST, the test results are provided within a maximum of 24 hours.
!!! The laboratory proposes to conduct a test for Covid-19 infection for the team in the enterprise, having previously agreed on a convenient place and time for you. Departure price 150 EUR (contact us by phone - 26388668)